7 min Paneer Tikka (BBQ) Recipe with Sunflower oil
Now a days making restaurant style paneer tikka at home has become a vogue of every woman. Every house has started to look into fresh & new recipes to make at home as a mission to surprise their family and friends. It is not only a healthier choice but also it saves time and money. And one more thing that's running hot in you tubes is the vegan lifestyle and eating habits and this shows that vegetarianism has always got a special place in the hearts of the people. If you are a vegetarian lover or a mother who wishes to make a restaurant style vegetarian dish for the children to make them fall in love with vegetarian food, this recipe is a saving idea!
This Paneer Tikka or Paneer BBQ is the best dish for people at all ages, as it contains sunflower oil at a minimum amount and other healthy ingredients that would add taste to your taste buds with the restaurant style tandoori taste. Tikka is usually grilled in a tandoori stove, but you can get the same taste when you broil in the oven too!
Ingredients needed:
150 grams Greek yogurt , or thick yogurt (1/2 cup + 1-2 tablespoons)
1 tablespoon ginger-garlic paste
2 tablespoons Sunright refined sunflower oil
2 teaspoons coriander powder
1 teaspoon chaat masala
1 teaspoon Kashmiri red chili powder
3/4 teaspoon Garam masala
1/4 teaspoon red chili powder, or adjust to taste
1 teaspoon Kasuri methi, crushed
1/2 teaspoon salt, or to taste
1 lemon, made into juice
2 tablespoons chopped coriander leaves
2 tablespoons chopped mint
300 grams paneer, cut into big cubes, around 2 heaping cups of cubes paneer
1 large onion, cut into 1 inch cubes
1 large bell pepper, cut into 1 inch cubes, I used mix of red and green peppers
1 bowl of fresh mushroom cut into two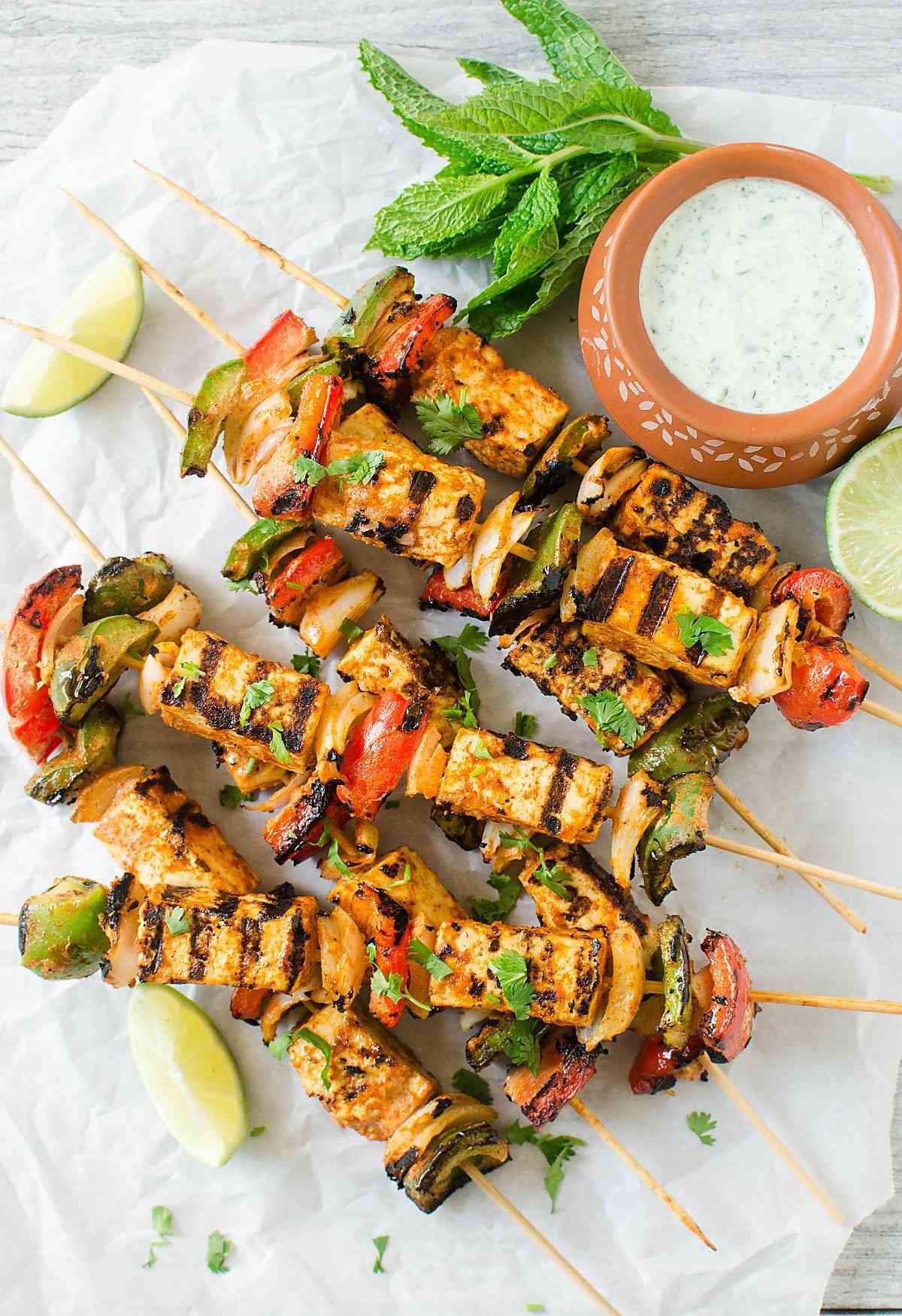 Steps to marinate:
Take a bowl and add Two tablespoon of fresh Greek Yogurt & ginger garlic paste
Now add chat masala, coriander powder , red chili powder and Kashmiri chilli powder and salt
Add Sunright refined sunflower oil
Now add Coriander leaves and mint leaves for taste and Kasuri Methi
Add few drops of lemon juice
Now mix all these ingredients well and add paneer cubes, pepper corns , onions and mushrooms
Mix the mixture well, so that it gets coated evenly on all the sides.
Now refrigerate it for 4 hours by covering the lid, refrigerating the mixture over night also works
Steps to make paneer tikka (BBQ):
Once you finish refrigerating , take the skewers and pierce every item one by one alternatively.
Now spray Sunright refined sunflower oil on the ingredients before you start cooking
Pre-heat oven and leave the skewers and bake it for 5 min and then broil it for 3 to 4 min for soft texture.
Cook well on both sides untill It turns to golden brown colour.
Once its cooked sprinkle some chat masala on it and serve it hot with coriander leaf chutney.