A Simple Recipe
Only few more days for Diwali and what have you got in your mind ? Surprise your family with tasty and yummy Badhusha with Sunright !. Leading Food specialists have agreed that Sunright refined sunflower oil makes sweet and snacks taste perfect and yummy. Even if you haven't started the preparation yet, no worries , We have simple and quick sweet recipes that will make your Diwali Joyful. Invite your friends and family and share your love with sweets with easy-to -get ingredients and Sunright oil !.
Balushahi recipe/ Badhusha recipe
You can increase the measure of ingredients depending on your need .
Ingredients
Sunright refined sunflower oil
1 1/2 Cup maida/ All purpose flour ( 250 gm)
1/2 tsp Baking powder.
1/4 tsp Cardamom powder
48 1/2 tsp sugar
3 thread saffron/ kesar
1/4 cup ghee( 50 gm)
1/4 cup curd (65 gm)
1/2 cup water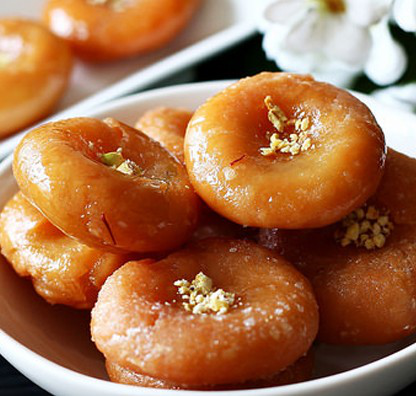 How to prepare:
Add maid, half teaspoon sugar, and baking powder and mix it well
Add ghee and combine the flour till it turns to a crumble texture and then mix it well untill your able to hold shapes
Now add curd and water and combine it well and make a perfect & soft dough
Cover the dough with wet cloth and allow it to rest for 15 minutes
Now take a pan and add sugar water and stir till the sugar gets dissolved
Add saffron now and let it boil for 5 minutes, after 5 minutes add cardamom powder and mix it till it turns syrupy. Keep it aside
Now knead the dough gently and make a ball and dent it in the centre.
Now fry it for 15 min approximately with Sunright refined sunflower oil till it turns golden and crisp
After it cools down add it to the sugar syrup and remove it after 5 minutes
Now serve it by decorating it with cashews and almonds